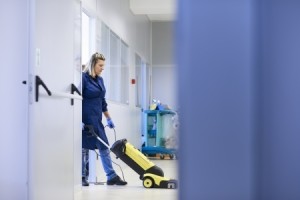 If you manage or coordinate all the maintenance for a commercial facility, you have a stressful task. More than likely, the multitude of required — interior and exterior — services are being performed by multiple contractors on different schedules.
This requires vetting each individual vendor, overseeing the cleaning and maintenance schedules, and coordinating payroll. The result is a transactional relationship with each, as the separate contractors conduct regular services without a broader strategy.
Did you know there is a different option, one in which you can call on experts from a single operation to coordinate and perform all your facility maintenance needs? The benefits from using our teams at System4 go on and on, but consider how streamlined your management could become through the use of a single vendor.
That extends from regular cleaning duties — regardless of the size or setup of your facility — to more significant building repairs or upgrades. Getting it done by one professional source will save both time and money.
We have the latest technology and expertise to do the work efficiently and cost effectively. We also have the experience and professionalism to forge real relationships. So contact us when you're ready to drop the contractor jugging act — we're ready to be your one-stop maintenance solution.