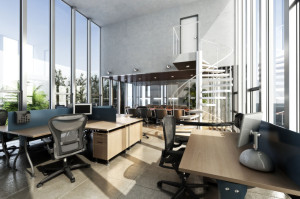 What does it take to be a top-notch company in terms of employee satisfaction? A lot of it comes down to physical environment. For even the most seasoned facility manager, there is a wealth of information to be gleaned from those included on those annual lists of "best places to work." Here are a few of the common threads:
World-class facilities
The most attractive workplaces are intuitively designed and laid out. Think natural light, comfy furniture, curated art and intelligent use of communal spaces. It's been proven that design and atmosphere impacts productivity. So these companies have translated their values into investments. Of course, it is not possible for all companies to make these improvements, but by intentionally designing your office with employees' well-being in mind, you are sure to come out ahead.
Everyday perks
While raises and bonuses are nice, the day-to-day culture matters. Visit one of the top-rated companies and you're sure to find kitchens stocked with artisanal snacks and beverages. You might even see a ping pong table and beanbag chair. How do you infuse some fun into your workplace?
If imitation is the highest form of flattery, facility managers should take note of these trends and try to adopt them how and where they can. By doing so, you put yourself and your company in a position to attract and retain the best talent. And in today's world, that is the holy grail.
If you are a facility coordinator or manager, we can help make your workplace gain a leading edge by sourcing and overseeing qualified service providers to meet your needs. You tell us what you need and when you need it. We deliver. Give us a call today: (801) 994-6924