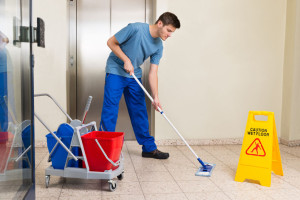 As we say goodbye to Old Man Winter and welcome the longer and warmer days of spring, so should we turn our attention to tidying up our workplaces. It goes without saying that most people are more productive in a clean, organized workspace. Here's how to clean transform your business inside and out into a (c)lean and mean machine:
Clean all surfaces. Use a microfiber cloth and disinfecting cleaner to wipe down all of your hard surfaces. That means desks, chairs, tables, and shelves. Don't forget electronics! They are bacteria magnets. Your phone, computer screen, keyboard, and mouse all need to be disinfected.
Declutter. Clean out your filing cabinets and get rid of clutter. Consider digitizing important documents and saving in the cloud. Shred paperwork containing confidential or sensitive information.
Don't forget about what lies beneath. Vacuum and mop flooring surfaces. Treat hardwood as necessary. Steam-clean carpets.
Boost curb appeal. People make assumptions about your business before they even set foot inside. What is your facade saying about your priorities? Spring is a good time for outside jobs. Re-paint your building and pressure wash as needed. Clean all windows. Install new landscaping to create an inviting feel.
Does this seem overwhelming? Don't fret. If you are a facility coordinator or manager, we can simplify your spring cleaning routine by sourcing and overseeing qualified service providers to meet your needs. Just give us a call: (801) 994-6924